SYSTEM : DYNAMITE BATTLE
PRODUCT CODE : B-191
COMPONENT : BLADE
SPIN DIRECTION : RIGHT SPIN
WEIGHT : Approx. 9,8 g
RELEASE DATE : October 9th, 2021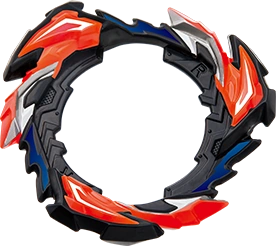 Description of the Dangerous blade
Dangerous is a right-spin attack type blade featuring a three-sided shape. With a far more agressive design than its predecessor, Dynamite, Dangerous looks closer to what we would expect from an attack blade.
The Dangerous blade makes F Gear mandatory
In reality however, looking at the side of this blade, you can immediately notice the gaps under the agressive contact points, meant to accommodate the F Gear. Those gaps result in a loss of weight, and quite elevated contact points. To put it bluntly, Dangerous is not a complete blade, the F Gear is mandatory to make it relevant. With a lack of weight and huge gaps under the contact points, Dangerous is pretty useless without F Gear : it doesn't have attack nor stamina potential, and the gaps can be exploited by the opponent's layer to destabilize the Dangerous combination. Out of the box, the Dangerous blade is quite disappointing.

However, once F Gear is attached to it, Dangerous does work as an attack blade (sigh of relief). While Dynamite + F Gear have a smooth round perimeter, with the F Gear turning Dynamite in a great stamina blade, Dangerous does not interact with F Gear in the same manner. Contact points on Dangerous are so high that F Gear fills the gaps without impeding on the blade attack potential.

Therefore, F Gear is absolutely mandatory if you want to enjoy the Dangerous blade and what it has to offer. Dangerous does not suddenly become a top-tier attack blade, it is probably outclassed by Savior and Ultimate in the right-spin attack category, but it can be surprisingly good in some specific scenarios and it can be decent against opposite spin Beyblades, thanks to the F-Gear. With the latter, Dangerous can be used as an average to good right-spin attack blade.

Dangerous is also compatible with L Gear, only usable in High Mode. The contact points of this blade being fairly high already, we would not recommend the addition of L Gear.
The Dangerous blade in stamina combinations
Dangerous can be used in stamina combinations, but again, just like in attack type combinations, do not expect top-tier performances, just good, not great.

Once again the F Gear is mandatory, allowing Dangerous to do a good job against opposite-spin combinations. However, we would not recommend using this blade as a pure spin-stealing tool, launching it lightly will not necessarily lead to good results. Based on our test battles, it looks like Dangerous is at its best when launched hard in stamina combinations, taking advantage of its smash attack potential, repelling the opponent with relative ease.

In same-spin stamina battles, Dangerous is not as good as its predecessor, Dynamite.
Final Thoughts on the Dangerous blade
Dangerous + F Gear finally delivers a Belial themed blade with attack potential. Unfortunately, it falls just short, probably because of the weight-distribution on this blade. In our opinion, it just lacks more concentrated weight on the contact points to make it hit slightly harder. Nonetheless, as long as it is combined with F-Gear, it is a fun, enjoyable alternative to play in a friendly environment.

Therefore, Dangerous is not a must-have for competitive players, but it can be a great addition to your collection if you have a F-Gear at your disposal.

List of Beyblade Products
You can find the Dangerous blade in the following products :