SYSTEM : GOD LAYER
PRODUCT CODE : B-98
TYPE : STAMINA
COMPONENT : PERFORMANCE TIP
WEIGHT : Approx. 6,2 g
RELEASE DATE : November 11th, 2017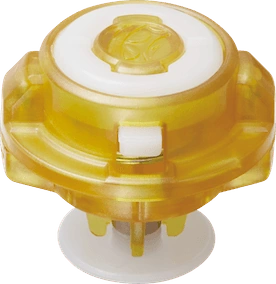 Description of Bearing
Bearing made its first appearance in the Deep Chaos 4Flow Bearing Beyblade included in the B-98 God Customize Set, as part of the God Layer system.

Bearing is stamina performance tip featuring a free-spinning, low angled conical tip made of POM (Polyoxymethylene) plastic, a material used to reduce friction. The shaft is supported by ball bearings, which reduces friction between the shaft and the tip.

The low friction of the POM plastic, combined with the free-spinning nature and the very sharp shape of the tip are making Bearing a driver with very high stamina potential.

These features, along with how wide the cone is, will help the combination going back to the center area of the stadium when pushed back or off balance, even at low spin velocity. The shape of the tip can put the combination off balance easily, which can result in Disc-to-Layer contact.

Furthermore, the stamina potential and the free-spinning nature of Bearing make it a top-tier performance tip, especially in opposite-spin battles.
Bearing driver weaknesses
However, when you want to create a combination with Bearing or its successor Bearing', you need to make sure your combo is well balanced. Bearing is a double edged sword, since the very low friction of the POM tip creates very high stamina, but also results in poor knock-out resistance.

Furthermore, Bearing has a very weak spring lock, resulting in poor burst resistance, often forcing the player to refrain from launching the combination at full force. With the attack power displayed by models from the Superking, Dynamite Battle and Burst Ultimate systems, Bearing's successor Bearing' is mandatory if you want to use it in these systems.
Final Thoughts on the Bearing Driver
The Bearing performance tip is a must-have for players collecting early models from the Beyblade Burst generation. If you are collecting more recent Beyblades coming from systems such as Superking and DB/BU, then we would strongly recommend to look for Bearing' instead.
List of Beyblade Products
You can find the Bearing performance tip in the following products :
B-98 God Customize Set : Deep Chaos 4Flow Bearing
B-121 Cho-Z Triple Booster Set : Wolborg 8 Bearing
B-00 Wolborg 8 Bearing (CoroCoro exclusive)
B-00 Bakuten Shoot Beyblade 20th Anniversary Set : Wolborg 8 Bearing
B-00 Union Diabolos 00Expand Bearing (WBBA. exclusive)