SYSTEM : DYNAMITE BATTLE
PRODUCT CODE : B-188
COMPONENT : BLADE
SPIN DIRECTION : DUAL SPIN
WEIGHT : Approx. 11,8 g
RELEASE DATE : August 7th, 2021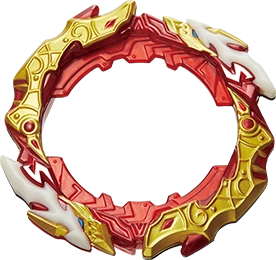 Description of Astral
Released with the B-188 Astral Spriggan Customize Set as part of the Dynamite Battle system on August 7th, 2021, Astral is a dual-spin Blade featuring a four blades design.

In left-spin mode, two blades are covered by white rubber, giving spin-stealing potential to the combination. The two remaining golden blades have decent attack power, which means they can repel the opponent's combo.
While this design is perfect for a balance type combination, it is very effective when used in a pure stamina combination. The balanced shape of the blade make it more difficult to work in an attack type combination.

Once flipped to be used in right-spin mode, Astral features two metal parts on top of the larger blades, intended to increase attack power. There is no rubber on this side of the smaller blades, decreasing spin-equalizing potential.

This design shows that the intent is to make Astral right-spin mode more attack oriented, but due to its shape and its limited attack power, it will probably be best used in stamina combinations. It can be used for its attack power in balance type combinations, in very specific and limited match-ups.
Final Thoughts
Overall, Astral is a top-tier Blade, especially when used in left-spin mode, in stamina combinations. With a similar style, it has been outclassed by its successor, the Burst blade, but it remains highly recommendable nonetheless.
List of Beyblade Products
You can find the Astral blade in the following products :
B-00 Astral Hello Kitty Over Revolve'-0