SYSTEM : GATINKO
PRODUCT CODE : B-139
TYPE : STAMINA
COMPONENT : PERFORMANCE TIP
WEIGHT : Approx. 6.1 g
RELEASE DATE : April 27th, 2019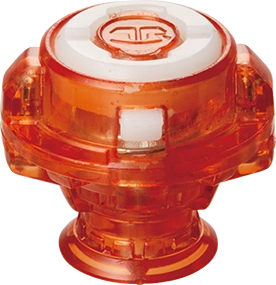 Description of Rise
First released with the B-139 Wizard Fafnir Ratchet Rise Sen Starter as part of the Gatinko Layer system on April 27th, 2019, Rise is a stamina type Performance Tip.

Featuring a sharp tip sitting just below a cone-shaped plastic disc, this driver is intended to have good K.O. (Ring-Out) resistance. The sharp tip is meant to provide high stamina potential, and the plastic disc is designed to prevent the combination from being pushed back or destabilized.

In theory, the cone-shaped plate is supposed to make contact with the stadium floor whenever the combination is pushed back. This would result in the whole combination being pushed back up by this disc.

In reality, Rise is hard to control and does not work as intended, at least not when it is brand new. The conic plastic disc not being a free-spinning component, it mainly creates scraping and resulting in huge stamina loss.

Designed to act as a "brake" to prevent the combination from being knocked-out too easily, Rise is only making the Beyblade harder to launch and control because of the unpredictable movements it can create, and also causes significant stamina decrease due to the amount of scraping it generates.

However, when launched at low velocity with a spin-stealing combination, Rise's performances are decent. The limited velocity results in less scraping, which is the main issue of this Performance Tip.
Furthermore, Rise is regarded by many players as a very good performance tip once "awakened", Takara Tomy's word to say "worn". Once awakened, Rise can even have some use in a competitive environment.
Final Thoughts
While a brand new Rise can be difficult to enjoy, it becomes far more interesting once "awakened". It can be used with efficiency up to the Gatinko/Superking systems, but Rise has since been outclassed by the best stamina drivers released in the Dynamite Battle and Burst Ultimate systems.
List of Beyblade Products
The Rise performance tip can be found in the following products :
B-139 Wizard Fafnir Ratchet Rise Sen
B-156-04 Random Booster Volume 18 : Naked Longinus 0Turn Rise Sen
B-173-04 Random Booster Volume 22 : Ace Dragon Wheel Rise Gen