SYSTEM : GATINKO
PRODUCT CODE : B-150
TYPE : BALANCE
COMPONENT : PERFORMANCE TIP
WEIGHT : Approx. 7,6 g
RELEASE DATE : September 21st, 2019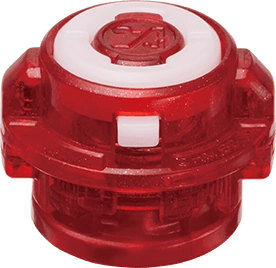 Description of Xtend+
Xtend+ is the upgraded version of the Xtend performance tip, with the added adjustable Xtend Chip.
Instead of a manual height change gimmick, Xtend+ features an adjustable tip at standard height with three modes : stamina, defense and attack.
Stamina Mode
The Stamina Mode is by far the best mode out of the three available on this driver. It features a sharp tip protruding from a low angle cone base, resulting in low friction and great stamina potential. The round ans smooth shape of the base surrounding the tip also creates high LAD potential, making Xtend+ a top-tier performance tip.
Defense Mode
The Defense Mode features the same tip, this time barely protruding from the wide conical base, remaining at a standard height. While the flat edge of the tip is intended to create counter-attack movements when the combination is struck and pushed back, Xtend+ Defense Mode does not create enough friction to do so. The flat edge that creates the second point of contact with the stadium floor has a smooth shape and is made of plastic, resulting in low levels of friction.

In reality, Defense Mode can create more movement but with no real defensive potential ; the combination will move in an unpredictable way and display poor knock-out resistance.
Attack Mode
The Attack Mode features a wide, hollow flat tip, remaining at the standard height of most performance tips. In this mode, the wide and flat shape of Xtend+ will result in fast, aggressive movement patterns.

However, in practice this mode is far too unpredictable to be used. The wide and smooth contact surface results in low levels of friction, making it extremely difficult to create and maintain a decent flower pattern or a tornado stall. While the combination will move with great speed, the behavior created by Xtend+ Attack Mode can be disastrous, combining chaotic movement and poor stamina.
Final Thoughts
While Xtend+ is intended to be a proper Balance type performance tip, the Defense Mode is inconsistent at best, and the Attack Mode is quite simply useless. However, Xtend+ great stamina and LAD potential are making it a top-tier competitive performance tip, only outclassed by its successor High Xtend+'.

Therefore, if you are playing and/or collecting early models from the Beyblade Burst Generation, Xtend+ is a must have. However, if you are engaged in the Dynamite Battle and Burst Ultimate systems, High Xtend+' should be prioritized over Xtend+.
List of Beyblade Products
You can find the Xtend+ performance tip in the following products :
B-123 Long BeyLauncher Set (It features the Xtend Chip to upgrade your Xtend to Xtend+)
B-150 Union Achilles Convert Xtend+ Retsu
B-00 Union Achilles Convert Xtend+ Retsu(CoroCoro Exclusive)