SYSTEM : CHO-Z
PRODUCT CODE : B-105
TYPE : BALANCE
COMPONENT : PERFORMANCE TIP
WEIGHT : Approx. 7,7 g
RELEASE DATE : March 17th, 2018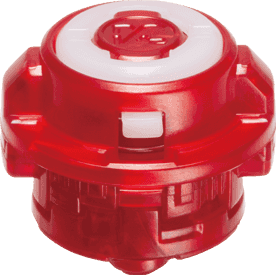 Description of Xtend
Xtend is a balance type performance tip featuring a very small, sharp tip protruding from a wide, round flat base. It also features a gimmick : a manual height-change gimmick. Xtend's height can indeed be changed between two modes by pulling and twisting the tip.

In lower mode, Xtend features the same height as any other standard driver, intended to create Layer-to-Layer contact. The higher mode, this performance tip is intended to create Disc and Frame-to-Layer contact, which in theory could result in increased burst resistance and burst attack power. However, in reality, the height change is minimal and has no such effect in battle.

In terms of behavior and perfomances, Xtend behaves like a stamina driver when launched flat. If launched at an angle, the wide flat base surrounding the tip will make contact with the stadium, resulting in an agressive and unpredictable movement pattern, albeit with great speed.

A flower-pattern or a tornado stall are both too hard to create and maintain : with the tip or the flat base interfering with the combination's movement, Xtend can slow down and move back to the center area of the stadium, or quite simply stop entirely. Furthermore, those issues do not only appear when using a Banking Shoot technique, Xtend can also suffer from these characteristics as soon as the combination is knocked off balance.
Final Thoughts
Xtend is not a must have in your collection. Even if you are playing with earlier models from the Beyblade Burst Generation, this performance tip is easily outclassed by Xtend+, making it a better choice than the original, standard Xtend. However, if you have access to the Xtend Chip, you can turn Xtend in its upgraded variant Xtend+.

Furthermore, if you are playing or collecting models from the Dynamite Battle and Burst Ultimate systems, Xtend is heavily outclassed by High Xtend+'.
List of Beyblade Products
You can find the Xtend performance tip in the following products :
B-105 Z Achilles 11 Xtend
B-107 Beyblade Cho-Z Battle Set : Z Achilles 11 Xtend
B-118-04 Random Booster Volume 11 : Arc Bahamut 7Lift Xtend
B-125-05 Random Booster Volume 12 : Deep Chaos 0Turn Xtend
B-132-08 Random Booster Volume 14 : Driger Fang 0 Xtend
B-00 Z Achilles 11 Xtend (Ice Sword)
B-00 Z Achilles 11 Xtend (G1 Bronze)
B-00 Z Achilles 11 Xtend (G1 Silver )
B-00 Z Achilles 11 Xtend (G1 Gold )
B-00 Cho-Z Customize Set CoroCoro Ver. : Z Achilles 11 Xtend (Gold)
B-00 Bakuten Shoot Beyblade 20th Anniversary Set : Driger Fang 0 Xtend