SYSTEM : GOD LAYER
PRODUCT CODE : B-97
TYPE : ATTACK
COMPONENT : PERFORMANCE TIP
WEIGHT : Approx. 6,5 g
RELEASE DATE : November 11th, 2017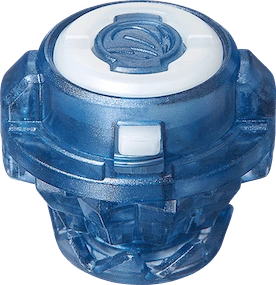 Description of Destroy
First released with B-97 Nightmare Longinus Destroy Booster as part of the God Layer system on November 11th, 2017, Destroy is an attack type performance tip featuring a star-shaped plastic tip, sitting under a free-spinning plastic disc.

The star-shaped tip allows aggressive movements and flower patterns, but being made of plastic, it has with strengths and weaknesses. Compared to a rubber tip, which creates more friction, Destroy has a harder time maintaining a flower pattern. On the other hand, the lower friction of plastic results in more stamina.

Furthermore, the free-spinning disc is a really important tool on this performance tip : instead of just acting like a brake to prevent Knock Outs, its free-spinning nature will allow the combination to maintain good stamina, re-stabilize itself if needed, and create LAD (Life After Death) potential.
Therefore, Destroy is probably the best attempt at creating an agressive performance tip featuring decent stamina and LAD, making it a strong and versatile driver.

Destroy has all the required attributes to make the difference in attack vs attack battles, where this driver can out-spin or KO a combination using rubber tips. This performance tip is also more than welcomed in the DB standard stadium, where rubber drivers tend to struggle.
Final Thoughts on Destroy
Destroy has been used in the past an many types of combinations due to its high versatility, making it a must-have in the early days of the Beyblade Burst Generation. The release of many defense and stamina performance tips later in the Burst generation made Destroy less versatile, but it remains a great driver nonetheless. There are simply scenarios or environments such as the DB standard stadium where a good, aggressive attack-type plastic tip is required, and Destroy is one the best you can get.

Destroy is not necessarily a must-have, only because it is now outclassed by its successors Destroy' and Metal Destroy. Destroy' is a recommendable option, as well as Metal Destroy if you plan to use it on Bahamut and Kerbeus DB cores, or a double-chassis from the Superking system (see our complete article on Metal Destroy here). For players who are using earlier models, released before the Cho-Z Layer system, then Destroy is perfectly fine.
List of Products
You can find the Destroy performance tip in the following products :
B-97 Nightmare Longinus Destroy
B-111-03 Random Booster Volume 10 : Z Achilles 4 Destroy
B-118-01 Random Booster Volume 11 : Vise Leopard 12Lift Destroy
B-121 Cho-Z Triple Booster Set : Z Achilles 3Dagger Destroy
B-170-06 Random Booster Volume 21 : Emperor Forneus Wheel Destroy
B-00 Nightmare Longinus Destroy (Recolored)