SYSTEM : SUPERKING
PRODUCT CODE : B-174
TYPE : BALANCE
COMPONENT : PERFORMANCE TIP
WEIGHT : Approx. 8,7 g
RELEASE DATE : November 14th, 2020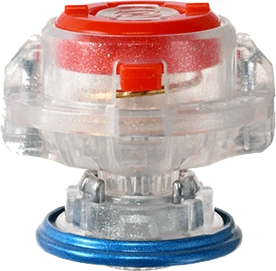 Description of Zone'+Z
First released with the B-174 Beyblade Limit Break DX Set as part of the Superking Layer system on November 14th, 2020, Zone'+Z is a balance type Performance Tip. For detailed informations about the normal version of this driver, see the complete Zone' article.

The "Zone Chip" or "Z" is a chip compatible with the Zone' and Xceed' Performance Tips. It can be assembled and removed from both drivers.

Zone'+Z features a sharp conical plastic tip barely protruding from a free-spinning plastic plate, surrounded by the free spinning metal disc of the "Z" chip. "Z" is slightly cone-shaped, and it has a smooth perimeter, as well as a fairly wide and smooth surface, increasing the size of the free-spinning plate.

Therefore, the added metal chip creates a second point of contact with the stadium, keeping the combination stable with minimum stamina loss due to the low friction of metal and the free-spinning nature of the chip. "Z" also adds LAD (Life After Death) to the combination.

All these attributes combined provide high stamina potential to Zone'+Z, making it a great Performance Tip in opposite-spin battles. It can be used in spin-equalization combinations with the same effectiveness as drivers such as Bearing'. Furthermore, Zone'+Z high stamina and decent mobility can be used as an alternative to create attack type combinations designed for the DB standard stadium.

However, the low friction of metal decreases knock-out resistance, and makes the combination harder to control, resulting in an increased knock-out and self-K.O. risk.
Final Thoughts
Overall, "Z" is a great upgrade, preserving Zone' free-spinning nature and increasing its stamina potential. While Zone'+Z has been outclassed by other stamina Performance Tips from the Dynamite Battle and Burst Ultimate systems, it remains a unique driver combining mobility and high stamina potential, making it a great, highly recommendable Performance Tip.

Therefore, Zone'+Z is not a must have, but it can be a great addition in any Beyblade collection.
List Of Beyblade Products
You can find the Zone'+Z Performance Tip in the following products :
B-174 Beyblade Limit Break DX Set : Helios Volcano Ou Zone'+Z
The Z Chip can be found in the following products :