SYSTEM : DYNAMITE BATTLE
PRODUCT CODE : B-180
COMPONENT : CORE
SPIN DIRECTION : RIGHT SPIN
WEIGHT : Approx. 7 g
RELEASE DATE : April 24th, 2021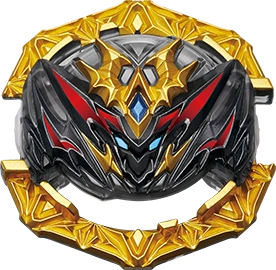 Description of the Belial 1 DB Core
First released with the B-180 Dynamite Belial Nexus Venture-2 Booster as part of the Dynamite Battle system on April 24th, 2021, Belial 1 is a right-spin DB Core with 4 locks, featuring the face of Demon King Belial.

This DB core is not a competitive component, it lacks the burst resistance and the stamina that other cores can provide in the Dynamite Battle and Burst Ultimate systems. Cores such as Belial 2, Belial 3 or Kerbeus will offer more burst resistance, while Perseus or Dragon will provide more attack and stamina potential.

The four locks of Belial 1 are strong enough, resulting in average to good burst resistance. While not competitive, it is a decent DB Core with no major strengths or weaknesses.
List of Beyblade Products
The Belial 1 DB core can be found in the following products :
B-202- 05 Random Booster Vol. 30 : Xiphoid Belial Karma Destroy'-10
B-204 BU All-In-One Battle Set : Divine Belial Nexus Adventure-6