SYSTEM : DYNAMITE BATTLE
PRODUCT CODE : B-191
COMPONENT : CORE
SPIN DIRECTION : RIGHT SPIN
WEIGHT : Approx. 7,5 g
RELEASE DATE : October 9th, 2021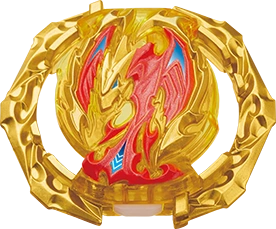 Description of the Phoenix DB Core
Phoenix is a right-spin DB core featuring four locks (three large and one small). This DB Core is average, which is perfectly fine. It doesn't feature amazing stamina or burst-resistance, but it is versatile without being great in any specific attribute.

Without any major strength or weakness, Phoenix can be used in any type of combination in a friendly environment. It is obviously outclassed by other DB cores in a competitive environment, such as Perseus or Dragon for their high stamina and Kerbeus for its high burst resistance.

Therefore, Phoenix is not a must-have if you are focused on the competitive meta-game, but it remains a reliable and versatile DB core if you want to build a balanced Beyblade collection.
List of Beyblade Products
You can find the Phoenix DB core in the following products :
B-201 Zest Achilles Customize Set (Black recolor)